Bio Sewage Treatment Plant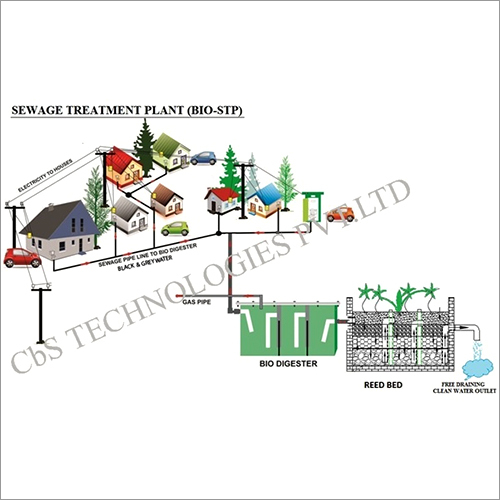 Bio Sewage Treatment Plant
Product Code : BS 17
Brand Name : CBS
Price And Quantity
Minimum Order Quantity
30
Unit of Measure
Piece/Pieces
Bio-Sewage Treatment Plant
All organic waste disposal in India is a burning problem. The problem has further aggravated in rural places in India & responsible for spreading of Water Born Diseases like Typhoid, Cholera, Shigellosis, Amoebic Dysenteries and Diarrhoea etc. Due to this BIO-STP Technology we can overcome with all these problems and make India's environment better to live.
TECHNOLOGY BEHIND BIO-STPs
This technology is suitable for any area/ application in India. The process under this technology culminates in to treated effluent which is free from Pathogens and is also environmentally acceptable. The technology has major three components:
A- Low temp active inoculums/AMI
B- Bio-Digesters
C- Reed Beds
A consortium of Anaerobic Microbial Inoculum (AMI) has been formulated and adopted to work at temp. As low as -52 to +50 degree C. This is the component which acts as inoculums (seed material) to the Bio-Digester and converts the organic waste into Bio-Gas and carbon-dioxide. The anaerobic process inactivates the pathogens responsible for water borne diseases. The optimum temp is maintained by microbial heat, insulation of the reactor. The Outlet from Bio-digester is directly fed into the Reed Bed System, the final effluent is clear clean water.
Bio- STPs (sewage Treatment Plants) are designed with following components:-
BIO-DIGESTER SYSTEM
REED-BED SYSTEM
BIO-DIGESTER SYSTEM:
Technology developed and approved by DRDO-Ministry of Defence an innovative technology for disposal of Organic waste in eco-friendly manner in Bio-Digesters. These Bio-Digester can function at any atmospheric temp between -55 to 60°C. The bacterial consortium degrades night soil at temp as low as -55°C and produces colourless, odourless and inflammable Bio-gas containing 50-70% methane.
The main constituents of Bio-digesters are AMI which is filled into the Bio-digester in a capacity of 40% to the volume of Bio-digesters tank. Black & Grey water from Housing Multiplexes, Villages, and Public Places are connected to the Bio-Digester. Night soil degradation occurs through microbial reaction which converts it into Bio-Gas & Clean Water.
The smell of night soil, the disease causing organisms in the night soil and the solid matter are eliminated totally. On dry weight basis 90% of the solid waste is reduced. The gaseous effluent (Bio-Gas) is continuously let off to the atmosphere/Bio-Gas can be used for various energy incentive activities like cooking, water and room heating. Liquid effluent can be drained to any surface or soak pit without any environmental hazards.
REED-BED SYSTEM:
Reed Bed has become the principle waste water treatment method around the world. Reed beds (vertical flow subsurface constructed wetlands) are the most significant advance in water and waste treatment since the activated waste process was first used over a century ago. Reed bed technology designs and constructs highly effective and simple to operate systems for treating a wide range of contaminant chemicals including ammonia, BOD, COD, suspended solids, organic chemicals, chlorinated organic chemicals, industrial solvents, and hydrocarbons.
Reed beds rely on biological processing of contaminants to treat water to a quality suitable for environmental disposal or reuse. But unlike activated waste, reed beds consume no energy, require no chemicals, have no moving parts, and are carbon neutral. Reed beds have been operating across Europe and the US for over 20 years to manage and treat domestic wastewater, water treatment waste, leachate and contaminated groundwater, and mining and industrial process water. These systems are still in operation today and continue to function with very little maintenance.
We design and install Reed beds to treat domestic waste water, domestic waste water, industrial wastes and contaminated wastes and mine waters. Our reed beds transform and remove a range of different contaminants from these wastes, including organic loads (BOD), petrochemicals & solvents, suspended solids & sediments, metals and nutrients.
DISTINCTIVE ADVANTAGES OF BIO-STPs
Disposes human waste in a 100% ECO friendly manner.
Generates colorless, odorless inflammable Bio gas(can be used for cooking heating) and absolutely clear odorless water. Water is full of nutrients and minerals and is good for irrigation purpose of nearby gardens, lawns etc.
Suitable for sub zero temperature of Himalayan Region, Glaciers, Highways, Remote areas, Sea Ports, Mining area, Metro Cities etc.
100% maintenance free, continuous Biological process.
Complete elimination of pathogens.
Economically viable.
No dependence on the limited and costly conventional energy sources.
Can be installed and made operational in least Time-duration.
Inoculums charging is only once during the entire life of Bio Toilet.
No need of connectivity to the sewage line, septic tank. No disposal of sludge is required.
Saves/Conserves
Water, Energy, Space, Environment, Time, Promotes Hygiene.
Trade Information
Payment Terms
Cash in Advance (CID), Others
Delivery Time
Months
Main Export Market(s)
Asia, Australia, Central America, North America, South America, Eastern Europe, Western Europe, Middle East, Africa
Main Domestic Market
All India